What would YOU do with $500?
Enter these giveaways to win!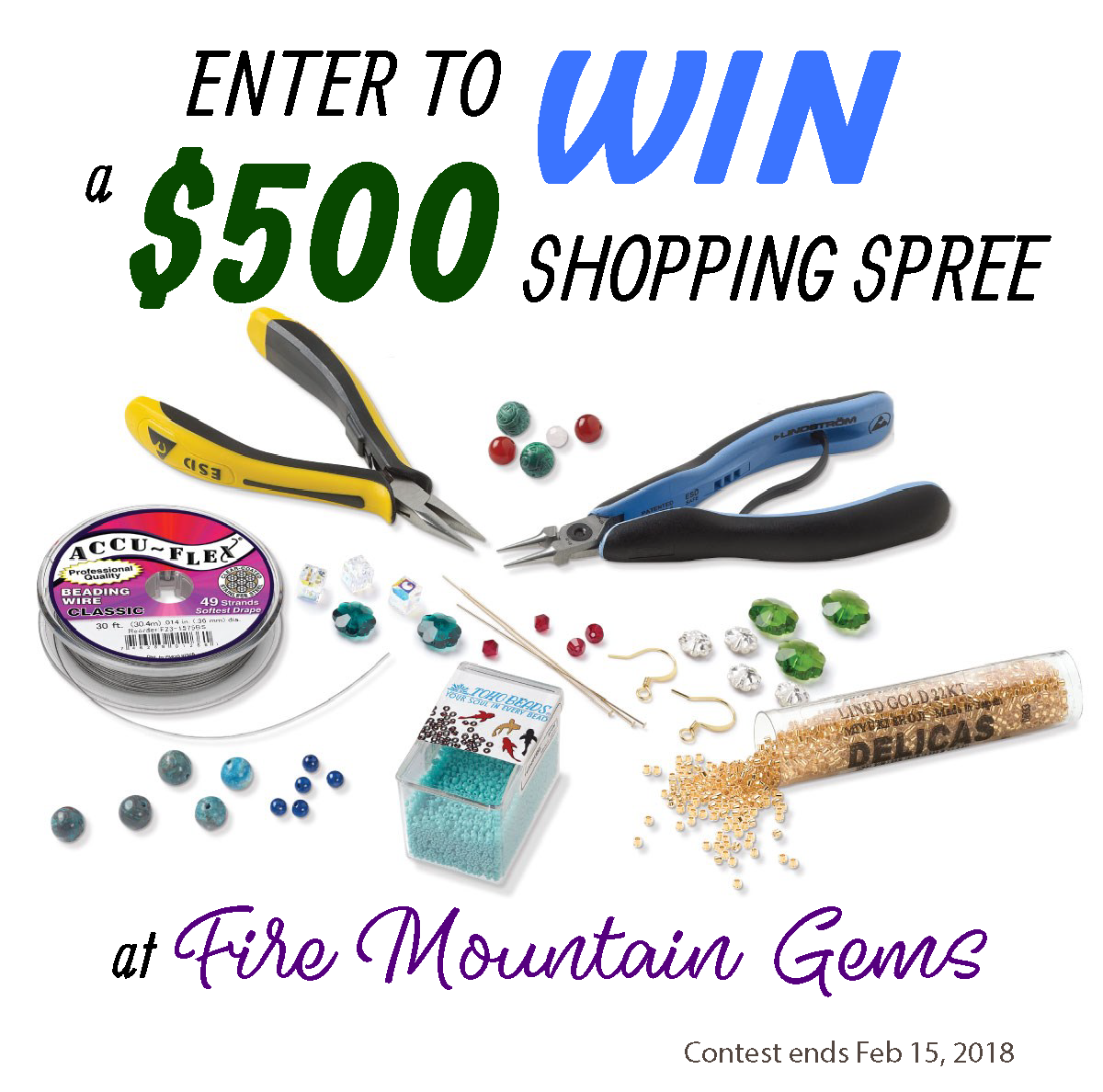 The year is starting off with some great giveaways, including a $500 Fire Mountain Gems shopping spree and a Foredom Flex Shaft!
Note: this post may contain affiliate links to products I use and/or would recommend. This post is not sponsored, nor have I received any other form of compensation from these companies. All opinions are my own. I have included links so that you can easily find the products I am referring to, and, if you decide to purchase something through one of these links, I receive a small compensation for sending you to them, but it does not cost you a penny more. I use these meager earnings to help support my blog. You can read my full disclosure here.
Note that I am not affiliated with Fire Mountain Gems, Facet Jewelry, Interweave, or Foredom.
Happy New Year! I can't believe it's already 2018! The past year just flew by…
I have so many blog post ideas to share, but just not enough hours in the day to publish them! One of my New Year's resolutions is to MAKE time to get these ideas to paper (or, um, the cloud), dust off my camera, and start getting these posts done!
I got a gift certificate to Cheap Joe's Art Stuff and bought supplies to do some new projects I've been dying to try. I also bought some gifts for myself from Amazon (including this and this) for these projects. Have you heard of a dirty pour? If so, then you'll know at least one of these projects! If not, I'll give you a hint — it's not referring to dumping the bucket after mopping the floor.  😉
My daughter (who is now 9! wow!) didn't want dolls or a bike or anything like that for her birthday and Christmas. She wanted recording equipment! She got a web cam and a microphone and recording software. She wants to be the next YouTube sensation! Actually so far she's mostly been recording herself playing Roblox and I think she deletes 90% of the videos she uploads. But she's teaching me all about the ins and outs of recording and YouTube. So another one of my resolutions is to start a YouTube channel.
While I don't have any of my great DIY posts or videos to share today, I do have a little something else that could brighten your day!
Facet Jewelry is doing a great giveaway! They are giving away a $500 Fire Mountain Gems shopping spree!
If you aren't familiar with Fire Mountain Gems and Beads, they are an online supplier of anything jewelry related — beads, wire, tools, leather, chain, gemstones, rhinestones, displays, organizers, and more. They have great regular prices and even greater sales!
What would you buy if you were given $500 to spend there?
I've spent thousands of dollars there over the last few years (shh, don't tell hubby). I try to save up to make one big order at a time because the more you buy, the more you save with their pricing structure! The price goes down on each item the more you put in your cart! Of course that encourages you to add a few more items to get to that next tier discount…
I've bought a lot of my tools there, and a lot of beads and findings. I like to go through their big sales and clearance items and get stuff sometimes up to 90% off. I might buy something I normally wouldn't select, but then that forces me to think out of the box and try something new. They sometimes have grab bags of beads or cabochons which can be fun too.
The giveaway runs from today (1/1/18) to February 15, 2018. Available to US residents only (excluding RI, sorry RI). See more details of the rules on the entry page.
And I have another giveaway to tell you about too! Interweave is having a giveaway for a Foredom Flex Shaft from Fire Mountain Gems. If you aren't familiar with this tool, it's like the Cadillac where the Dremel is the Ford Fiesta. Hey, I have a Dremel and they aren't bad tools, but the pros use a Foredom.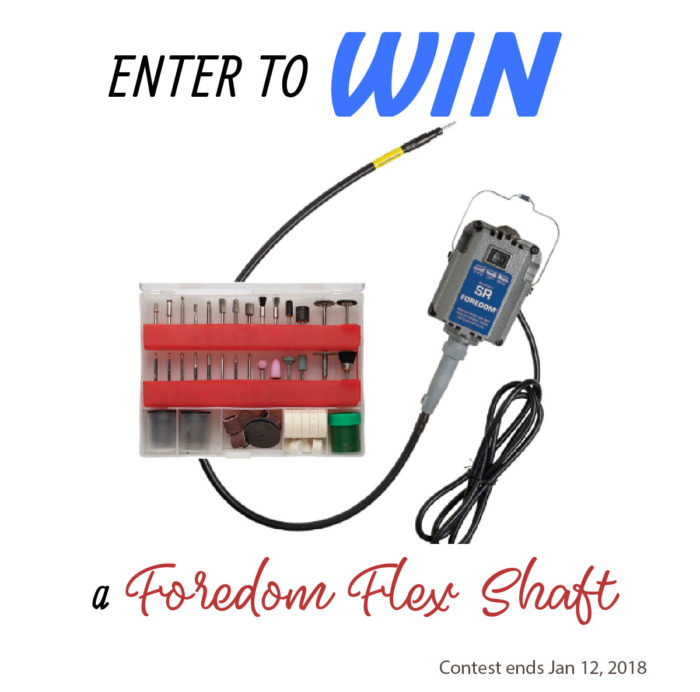 The Interweave contest runs only until January 12, 2018, so you'll have to act fast on this one. Again, it is open to US residents only. See more details of the rules on the entry page.
Here are the links to enter the giveaways:
$500 Shopping Spree Giveaway offered by Facet Jewelry
Foredom Flex Shaft Giveaway offered by Interweave and FMG.
Good luck! Let me know if you win!
Comment below what you'll buy if you win! Also, what do you think about me doing videos versus blog posts (or in addition to)? Do you like to read or watch? What topics are you most interested in? Let me know!