DIY: Shrink Plastic ID Tags & Zipper Pulls
Perfect for backpacks, lunch boxes, jackets, and more!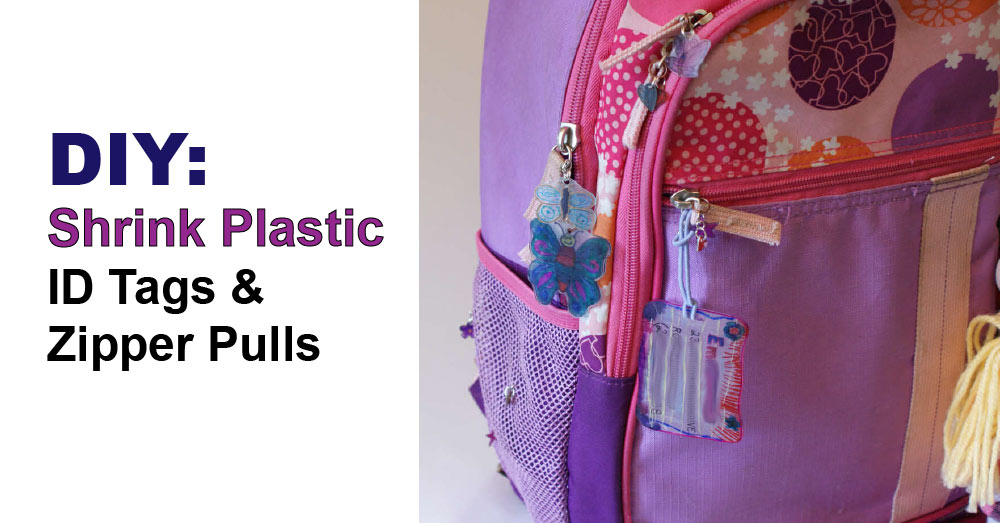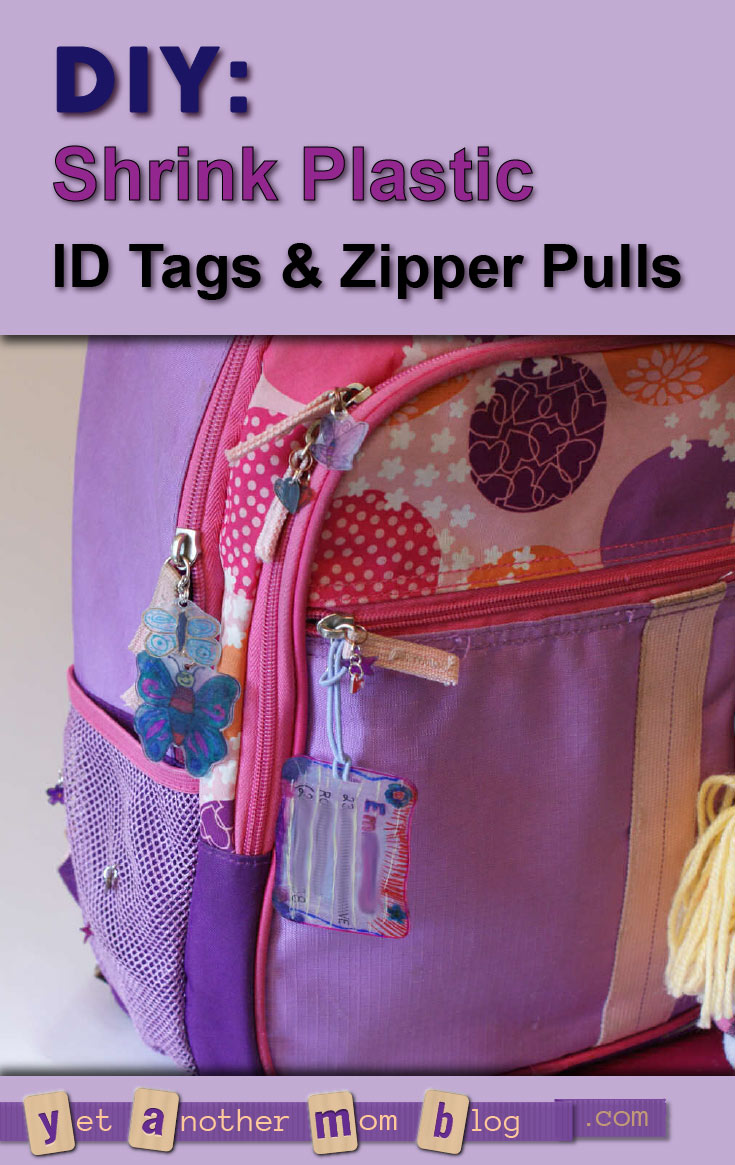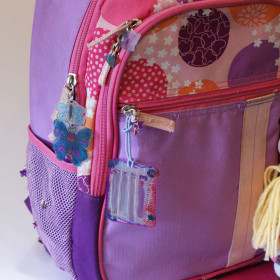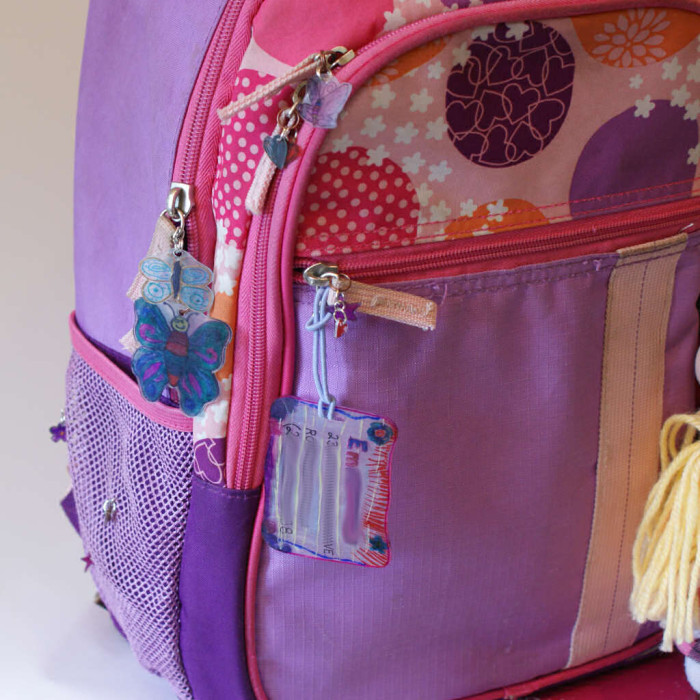 Getting ready for going back to school means getting new clothes, new supplies, a new backpack… and then you have to label everything! Why not make it fun by creating custom ID tags using shrink plastic? Makes for a great activity for the kids and gets them in the mood for going back to school to show off their creations to their friends!
Note: this post may contain affiliate links to products I use and/or would recommend. This post is not sponsored, nor have I received any other form of compensation from these companies. All opinions are my own. I have included links so that you can easily find the products I am referring to, and, if you decide to purchase something through one of these links, I receive a small compensation for sending you to them, but it does not cost you a penny more. I use these meager earnings to help support my blog. You can read my full disclosure here.
"It's the most wonderful time of the year…" I LOVE those old Staples back-to-school commercials! Yup, the kiddos will be heading off to school any day now with their backpacks stuffed full of the school supplies we had to buy. Paper towels? Ziploc bags? More scissors? I haven't added up the final cost yet for my first grader, but Jeez Louise…. You'd hate for them to lose that backpack, so you'd better make sure it's labeled.
I did a post around Mother's Day for making Shrinky Dink charms for a bracelet or necklace. I mentioned other uses for shrink plastic too, such as luggage tags. As we've been getting my daughter's school gear together, I realized we could make a cool ID tag for her backpack! You can also make custom zipper pulls for the backpack or a jacket too! Or how about tagging their lunchbox or gym bag?
If you haven't used shrink plastic before, IT IS SO COOL! It starts out thin and flexible, and then when you put it in the oven, it shrinks to about half its size, thickens, and becomes hard plastic.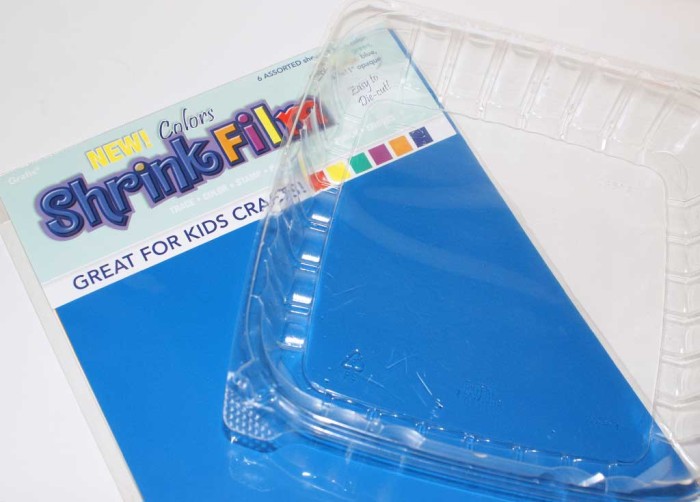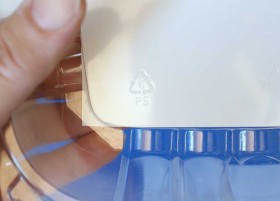 There are a couple of companies out there that make the shrink plastic sheets, such as the original Shrinky Dink brand and Grafix. You can even get colored sheets, which are pretty neat (see photo above). But you can often get it FOR FREE by looking in your recycling bin. Got any clear plastic containers from your grocery store? You are looking for ones that have recycling symbol #6. This is the plastic that is a bit brittle, and is often used in the bakery or produce dept., or for rotisserie chicken lids. Look for one that has a large flat surface on it. Any small printing on it (like the recycle symbol or part #) is ok, but you don't want big ridges or anything like that.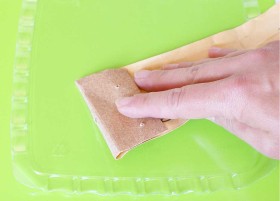 First, you need to prepare the plastic. Since this tag will get lots of wear and tear, you'll want to make sure the surface of the plastic has a bit of "tooth" to it so the ink or pencil has something to really sink into so it won't just rub off easily. You can lightly rough up the surface with sand paper, an emery board, or even a kitchen scrubby. If you are using purchased shrink plastic sheets, Grafix makes a pre-sanded pack which saves a step and looks a bit neater than the hand sanding.
Next, plan the shape and size. The key to working with shrink plastic is remembering to make your pieces and designs large enough. For the name tag (or for a luggage tag), I figured I'd like it to end up about the size of a business card. So you need to at double both dimensions. (If you buy sheets, follow the manufacturer's instructions.) In my case I wasn't able to make it quite double width because of the size plastic I was using, but it was close enough. You can cut out your shape with scissors or a craft knife.
Caution: Be gentle when cutting any inside corners, because the plastic could crack. Instead of trying to turn a corner with scissors, start at the outside on the other side and come back to the inside corner.
Hint: You don't have to make it rectangular! It can be a circle, a heart, a flower, an apple, a star… whatever you want! Just watch out for sharp points. Round off points or corners a bit when you cut it out.
You also need to make sure your text is extra big. I made my letters in 3 different sizes. The name I did in block lettering at about 60 point size. The address was about half that size. And the phone number I made a bit bigger, at around 42 pt.  I probably could have gone a bit smaller, but since I was using a recycled plastic container, the shrink factor isn't as consistent, plus it can sometimes skew if it doesn't shrink evenly, so I was worried about readability. I probably wouldn't go lower than 24 pt for the smallest type (which would shrink to 10-12 pt).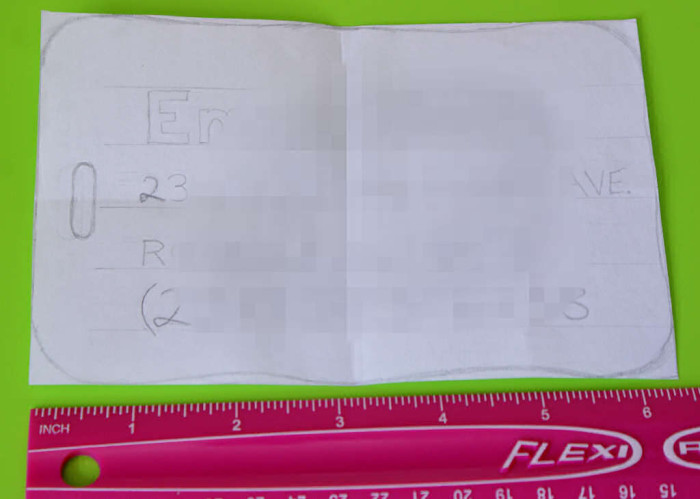 If you are working with clear plastic, you can create your whole design on paper and then trace it. If you are worried about your hand-lettering skills, you could create the tag in Word or your favorite document editing program and then print it to trace. For block letters, use a font like Arial Black or Helvetica Black. For the rest of the text, use something like Arial, Calibri, or Helvetica. Something easy to trace and easy to read.
Hint: If you are really worried about your tracing skills too, then you can buy
shrink plastic printable sheets
. Then you can print directly using your inkjet printer and not have to go through the hand-lettering or tracing steps! (But what's the fun in that?!?) On the plus side, you can get really fancy with the design. You could even turn this into a photo ID!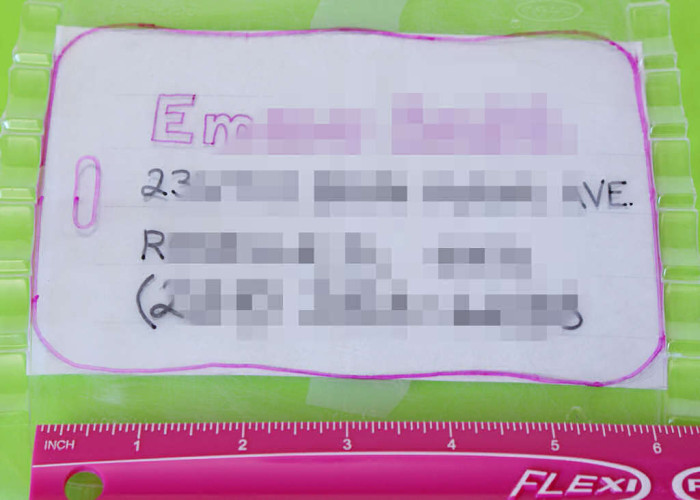 Remember to leave room in your design for making a hole to have a way to attach the tag to the bag! You need to make the hole before you shrink it! In my case, I created a large slot (about ¼" wide and just shy of 1" long). I did this in case we wanted to use one of those watch-like straps with a buckle. It could also be attached with ribbon, a strong hairband, or a key ring. To create the hole, you can use a ¼" hole punch, or carefully cut with a craft knife. Make sure the hole is at least ¼" from the edge of the shape for strength.
If you are making smaller, charm-sized pieces for zipper pulls or just decoration, you can make a smaller hole, but don't go smaller than 1/8" or you'll never get a needle or jump ring through the final piece without drilling it out some.  And with a smaller hole, you'll want to get a little bit closer to the edge of the piece so a small jump ring will be able to straddle it.
To trace and color, you can use Sharpies, Bic Mark-Its, or other alcohol-based pens, or you can use colored pencils. For the pencils, you'll want the surface roughed up a bit more to give more surface for the color to adhere to. After I traced the contact info, I handed it over to my daughter to decorate.
Important note: when a piece shrinks, the colors get darker, more intense. For example, a light green may turn into a dark green. So stick to lighter colors when filling in a design.
Hint: This would be a great time to use your metallic markers and pencils! They show up nicely on the pieces. You can also use them on the pieces after shrinking, to refine some outlines or color the edges.
Em also wanted to create some butterflies for zipper pulls, and we had extra scraps of plastic left, so we created a bunch of hearts, stars, flowers and leaves to use for something later.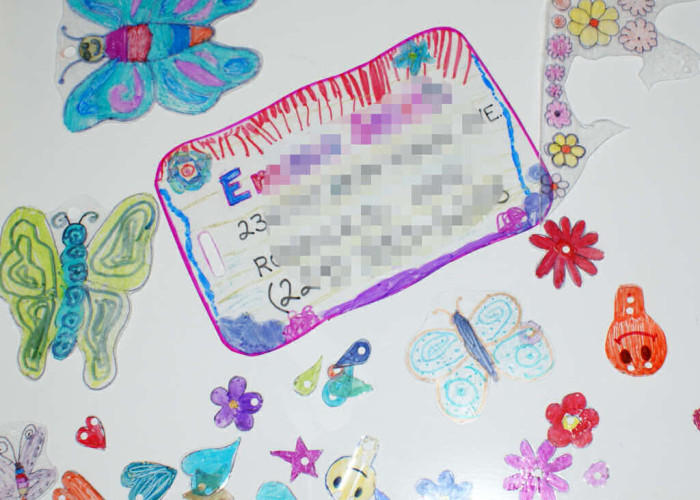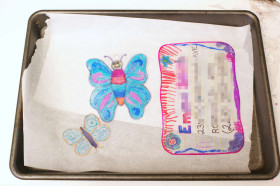 Once you are happy with your piece, you'll need to bake it. Follow manufacturer's instructions, or if using recycled plastic, heat your oven (or toaster oven) to about 325°F. Place your pieces on a baking sheet lined with foil or parchment paper. Once in the oven, keep an eye on them. It only takes a few minutes. They will start to curl up as the outer edges heat up and shrink faster than the middle, but then when the whole piece heats up it flattens out again. You can remove it from the oven at this point and let it cool.
Hint: If a piece hasn't flattened out completely (just a little wave or cupping), you can quickly flatten it out as soon as you pull it out of the oven using a flat-bottom glass or something comparable to press it flat before it hardens (which happens quickly).
Once cooled, check the pieces for any sharp edges. You can smooth them with sandpaper or an emery board, being careful not to sand off your image.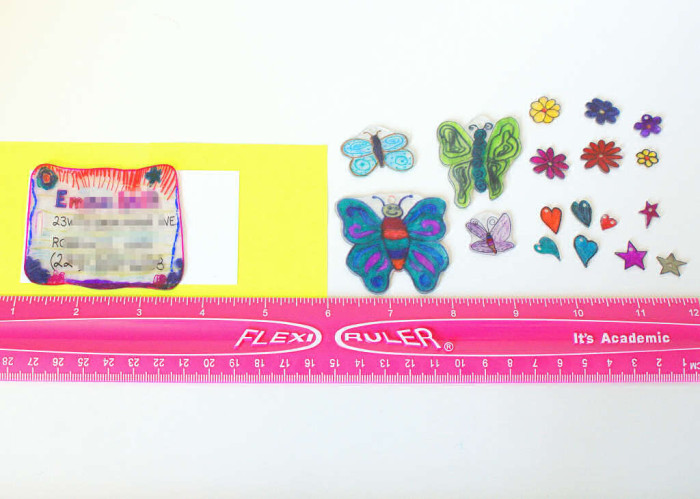 As you can see in the image above, the height of the ID tag shrank pretty close to 50%, but the width was a bit more (the white rectangle is a business card), but it is still readable. [This is likely due to the way the original sheet of plastic was pressed and molded to make the container.]
At this point, you can attach everything to your bag with jump rings, key rings, strong hair bands, wire, or very strong string. I used jewelry jump rings for the zipper pulls, and a hair band for the luggage tag. I left it loose so you could see how it was looped.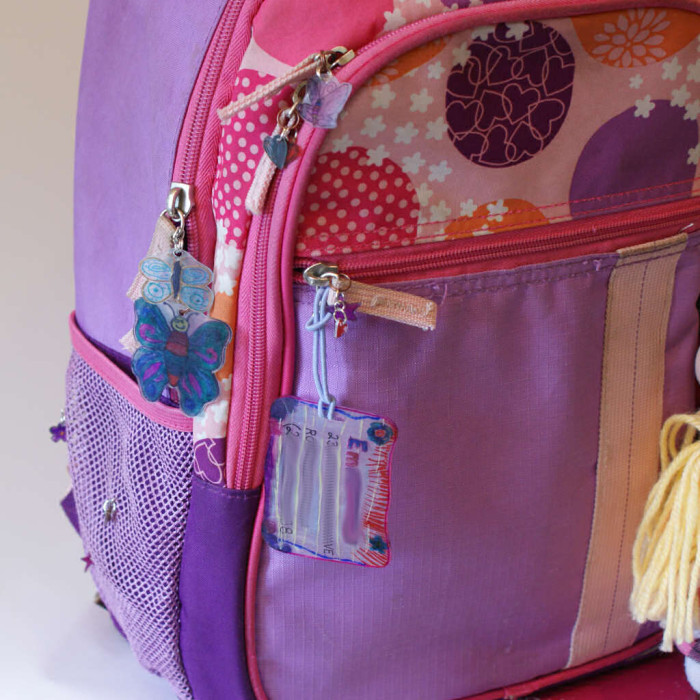 Em didn't want to stop there. She wanted to add some of the smaller charms we'd made. We ran out of zippers, so we decided to add them to the mesh pocket. Time will tell if the charms will snag on things and rip the mesh. I'll update this here if it doesn't work out. But they do look cute!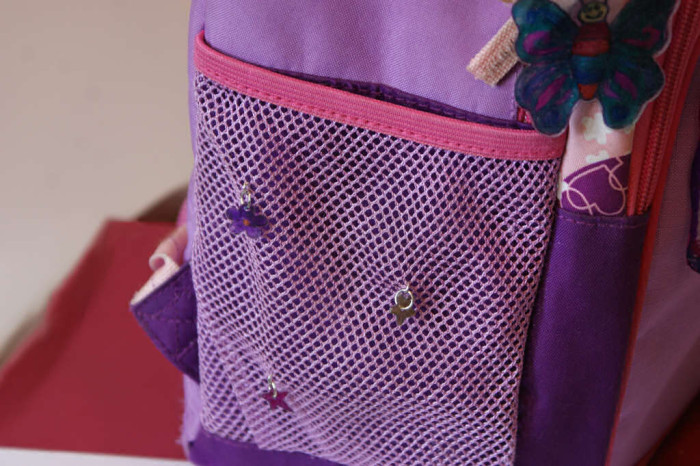 Would you like to try some other shrink plastic projects? Try my charms tutorial or check out my Shrink Plastic Ideas board on Pinterest for inspiration… and follow me while you are there!
Follow Cynthia Caldwell @ Yet Another Mom Blog's board Shrink Plastic Ideas on Pinterest.