No-Mess Painting with Kids?! It's Possible with Kwik Stix!
Here's my review... (sorry, giveaway has ended).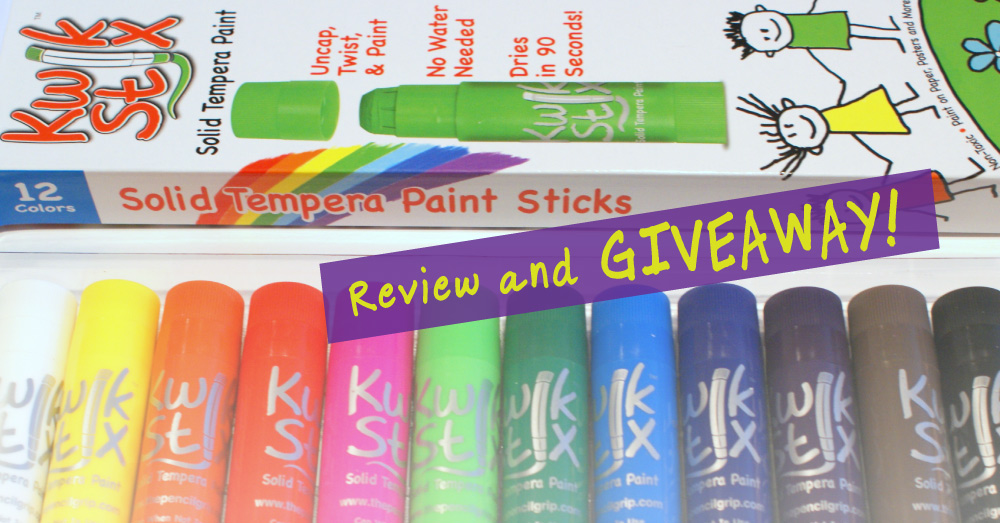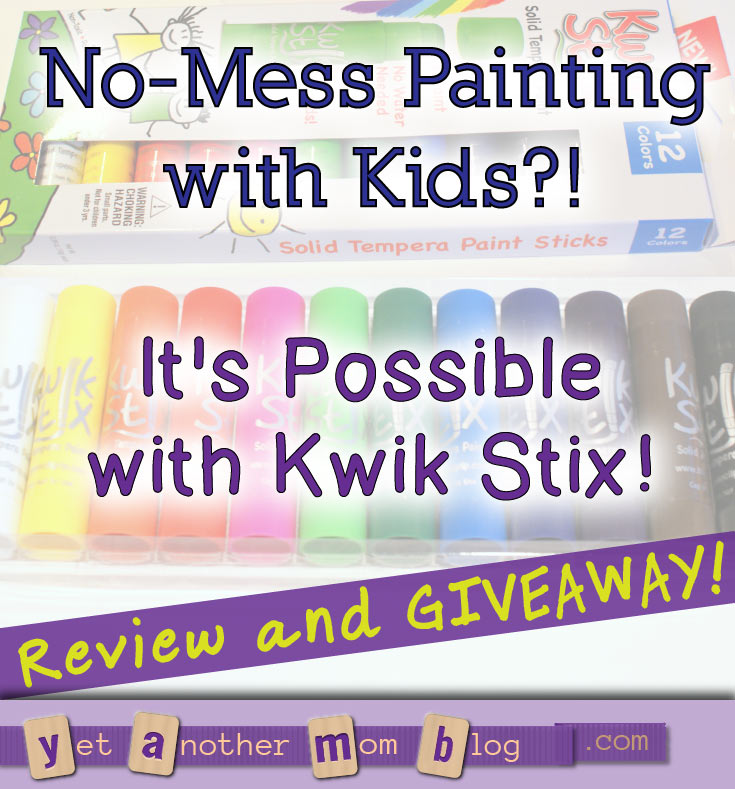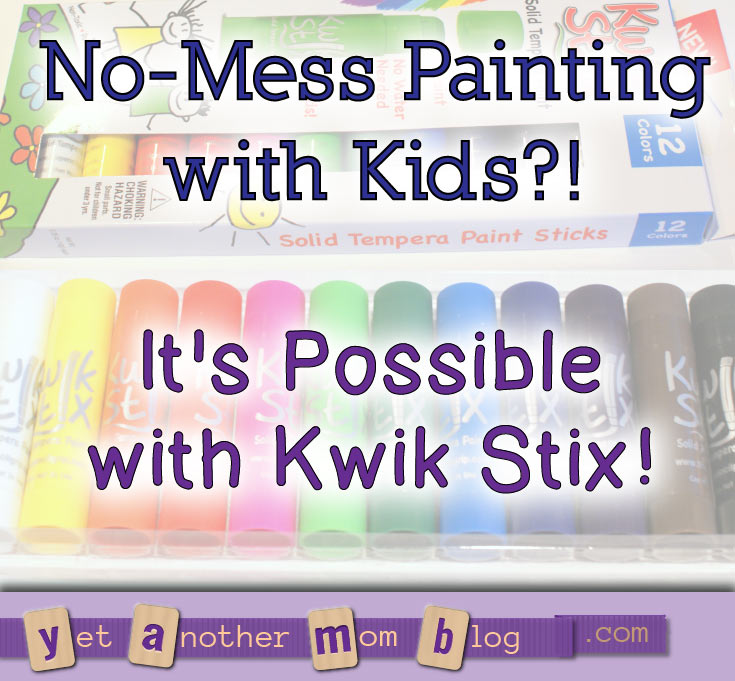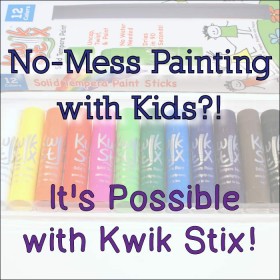 Today I'm doing a review of Kwik Stix Solid Tempera Paints, a new product by The Pencil Grip, Inc.  While called "paint," there's no water or brush required. And its fast-drying formula means it is set and smear proof in 90 seconds.
HURRY and ENTER below to win a set for yourself! Contest ends December 16th! Makes a great stocking stuffer!
Note: I received a free sample of the product in exchange for a review, and also a sample for the giveaway. I did not receive any other form of compensation. I accepted the product under the condition that I am free to write an unbiased review. All opinions are my own. You can read my full disclosure here.
Normally a paint session, whether with kids or even by yourself, can be a chore. Getting out the paint smocks, plastic tablecloths, newspaper, tarps, water cups, paint brushes, palettes or cups for paints, and cleaning up the resulting mess takes more time than the painting itself. The kids are already bored before you finish setting up!
Well, the folks at The Pencil Grip company are trying to make things a little easier. They've introduced a new product called Kwik Stix. They are called "solid tempera paints" because of the vibrancy and look and feel of the end result, but these really don't look like paints. But they aren't markers either. Or paint daubers. Or crayons. Or pastels. So what are they? I was sent a pack of these to try so I could tell you!
They come in a 6-pack (red, yellow, green, blue, brown, black) and a 12-pack (also includes pink, orange, purple, light blue, white, dark green), or a 96-pack (8 of each color, for schools).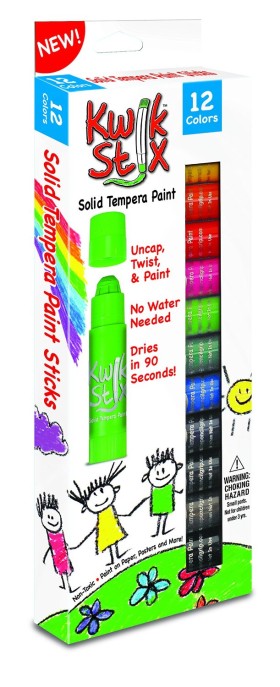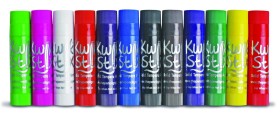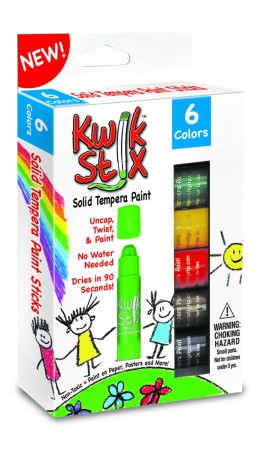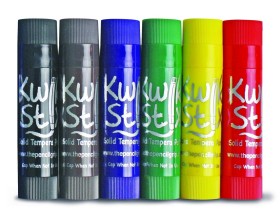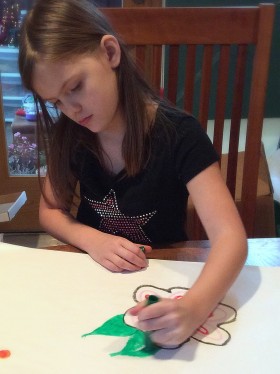 I sat down to play with these with my 6-year-old daughter. Her first reaction was that it looked and applied like a glue stick. They come in a stick, much like a glue stick. You take the cap off and twist the bottom to expose more of the "paint." I think their creamy consistency is somewhere between a lipstick and oil pastels.  But when it dries, it looks more like a tempera paint (although less "chalky" or "dull" like tempera paints can get sometimes).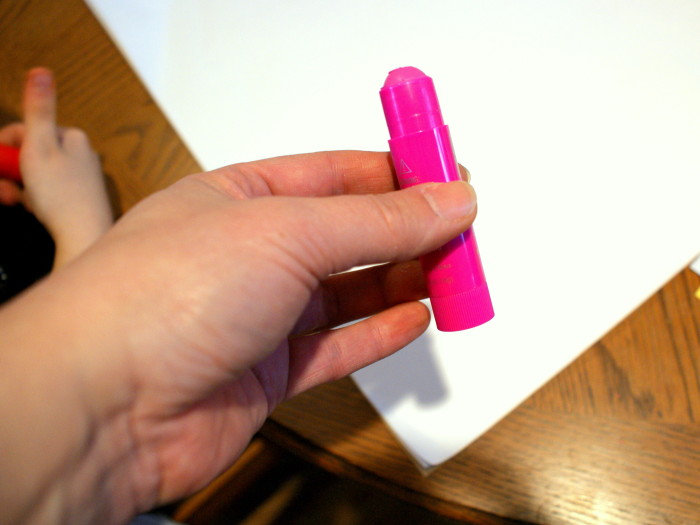 We tried these on smooth white paper and on colored construction paper. They go on nice and smooth and vibrant on the smooth paper. On construction paper, you get a bit more texture and it is harder to get complete coverage.  They can also be used on cardboard, wood, and canvas.
Do you like my carrot?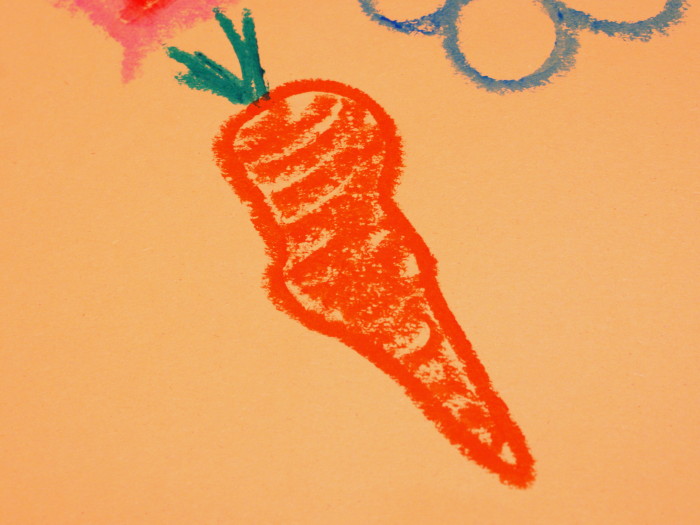 They really do set up fast! If you rub it right away, you can blend like with an oil pastel. But you have to work quickly, because it really does dry in 90 seconds or less.  This also means you can stack up the works of art as quickly as your child can make them! Typically, I have all the surfaces in my kitchen and dining room covered in paintings waiting to dry. Not anymore! Just one neat little pile of masterpieces!
Traditional tempera paints are fairly opaque. I found that the lighter colored Kwik Stix are somewhat more translucent than a typical tempera paint.  Here are some swatches that overlap so you can see how it looks. I kind of like the effect!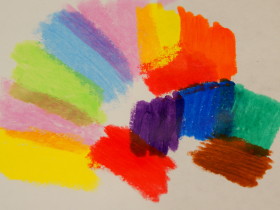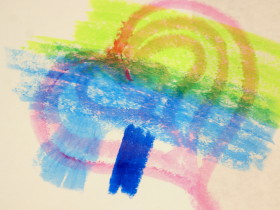 All of the colors showed up on black construction paper, but the light ones weren't quite as vibrant as on white paper. The white showed up the best on the dark paper.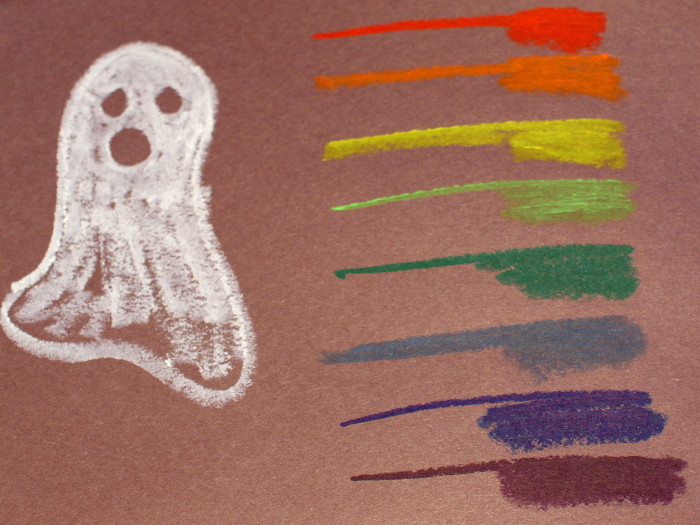 We also tried layering colors. Here's a Christmas tree with colored balls and attempted snow. As you can see, the lighter colors don't show up well over the green, and you can barely see the white snow.  But at least you aren't getting a massive blob of brown or gray you would with wet paints!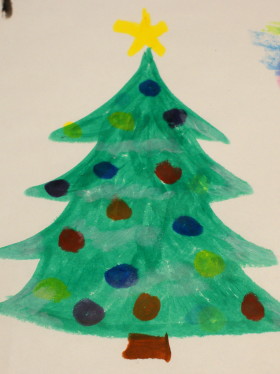 And, remember who these are designed for! Toddlers! These sticks draw pretty fat lines, so they are perfect for the younger kids. They'd also be great for older kids or adults making a big poster or sign, but not for a detailed drawing.
Little ones often like to really layer on the paints, and with traditional tempera paints, thick coats can crack. Kwik Stix won't crack. So no worries if you want your little one to create a masterpiece on canvas.
And the key advantage is LESS MESS. No water to splash or spill, no paint to spatter, no dripping from the easel, no paint brushes to clean up later, no paper getting soaked and wrinkled and ripped.
Given it is snowing out right now, I wasn't able to test them in the heat to see if they will start to soften too much or even melt in the sun like crayons can. But I'd probably keep that in mind if you like to bring the art activities outdoors.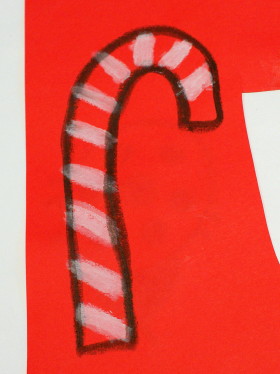 Here's another holiday creation. We had just finished decorating our Christmas tree, so we were in holiday mode!
The packaging says for ages 3 and up. If your child can manage a glue stick, then they can use these by themselves. A small child may have trouble removing the cap, or you may have to watch them twisting the bottom so they don't expose too much (just like with Chapstick!).
The packaging did not have any information regarding cleanup, so I contacted the company. I was told that soap and water cleanup works fine for hands. We actually found you can pretty easily just rub it off if it is dry.
For tables or counters, they said it is best to wipe the paint off before it dries, but if you are too late, you can rub off the paint with minimal effort with a dry paper towel or use a household cleaner.
They did not comment on clothing, so I did my own test. I tested it on 100% polyester and on 100% cotton. I used red and black – probably the two most likely to stain. I let one set of samples set for 2 days, and another set for under 2 hours. I pre-treated part of each sample (quick spray of Resolve, but no scrubbing) just before throwing into the washing along with a regular load of laundry. I washed them in warm water. The result?
< 2 hours
2 days
Polyester
Cotton
Polyester
Cotton
red – pretreated
faintest trace of pink
very light pink
light pink
fairly prominent pink
red – untreated
very light pink
fairly light pink
bit darker pink
fairly prominent pink
black – pretreated
gone
barely a trace of gray
barely a trace of gray
trace of gray
black – untreated
gone
trace of gray
barely a trace of gray
bit darker gray
If I had pretreated longer and maybe scrubbed or soaked, the stains only on for < 2 hours would probably be gone (or maybe gone after a 2nd treatment). The black stain that set for 2 days might fair better with more pretreating. I'm not sure that the red stain that sat for 2 days would come out.
So, while these paint sticks are "no mess" and kids aren't likely to get them on their clothes, I wouldn't dress them in their Sunday best or leave the littlest ones unsupervised. And I'd check for "oopses" when they are done, just in case.
Overall, I like Kwik Stix. I wish they had them when my daughter was a bit younger so I would've had more mess-free art sessions! She still enjoyed using them on the large sheets of paper to make some bigger art. Here's one last picture she did with more of a summer theme. The colors really pop on this one!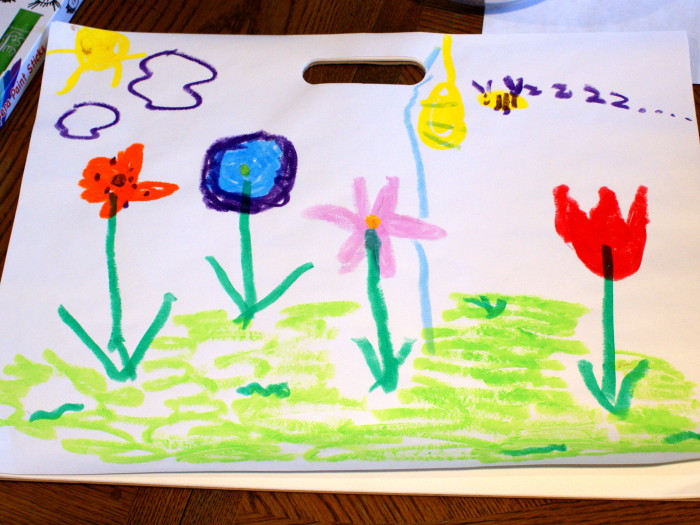 Here's a little promo video made by The Pencil Grip company:
In addition to Amazon and The Pencil Grip website, you can currently find Kwik Stix at the following retailers:
If you would like to contact The Pencil Grip company, here's where you can find them:
Website:  http://www.thepencilgrip.com
Facebook:  https://www.facebook.com/thepencilgrip
Pinterest:   https://www.pinterest.com/KwikStixPaint
Twitter:  https://twitter.com/ThePencilGrip
PLEASE NOTE: THE GIVEAWAY HAS ENDED.
The winner was Lana S. Congratulations!
Would you like a chance to try these? I have a giveaway for you!
Giveaway open to US residents only. Winner will be selected at random by Rafflecopter and will have 48 hours to respond to the email. I will verify the winning entry. If the winner does not respond within that timeframe, a new winner will be selected.
No purchase necessary. Facebook and Twitter are not affiliated with this giveaway.
By providing your information on this form, you are providing your information to Rafflecopter and Yet Another Mom Blog for the sole purpose of managing the giveaway. I do not share your information with others. If you are the chosen winner, I will use your information to contact you and send you your prize. I will only use your first name and last initial in the winner announcement. No other information will be made public.