How Do I Start Coloring? (Part 1)
A list of supplies to begin your coloring journey!
Other Useful Tools
Shading and Blending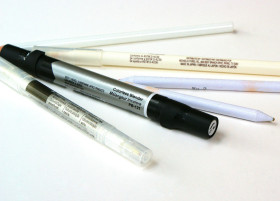 Shading is the process of creating a smooth gradient from dark to light of the same hue. Blending is the smooth transitioning from one color to another. The first is usually used for creating shadows for depth. The latter might be used for a flower petal that blends from one color at the base of the petal to another color on the outer edge of the petal.
There are many tutorial on the web that can teach you how to do shading and blending, so I will not go over all of that here. However, you might want to learn more about some of the tools available to you to help with these techniques. I only recently learned about some of these!
Blender pencil
Before I explain how and why a blender pencil used, let me talk a little bit about paper. Paper comes in different thicknesses (measured in weight) and textures (a.k.a. the tooth). But even a paper that feels smooth to the touch (like copier paper) has texture if you look under a microscope. There are high points and there are low points. When the pencil is rubbed over the surface, the color is applied to the high points only. That is why colored pencils, even after many layers have been applied, produce a rough look, with white specks showing through.
A blender pencil is basically a pencil with the same binder ingredients as a colored pencil, but without the added pigments. A colorless blender pencil will help push the color down into the valleys. This produces a smoother look. It also can make the color appear more intense.
Since it is pushing the color around, it will also help blend two colors that have been layered over an area, or soften an edge. If you have ever used a photo-editing program, think of the Soften feature, which produces a slightly blurry image.
If you push hard with a blender pencil, this flattens out the high points on the paper (reducing the tooth), which is also known as burnishing. This will produce an intense solid color, and will also give a sheen to the area burnished.
Quick Pick Recommendations for Blender Pencils:
Blender pen (alcohol/solvent-based)
Alcohol/solvent-based colorless blenders can be used for permanent markers or colored pencils. For markers, make sure to match the blender type to the type of marker (alcohol or solvent).
You can use to even out a color, fade a color, blend two different colors, or even lift off some color to lighten an area. Look for instructional videos on YouTube for demonstrations on how blender pens can be used for different effects.
Note: Make sure you clean your blender pen by drawing on a scrap piece of paper until it draws clean. If you put it away dirty, the remaining color could blend throughout the pen chamber and tint your now colored blender.
Quick Pick Recommendations for Alcohol-Based Blender Pens:
Blender pen (water-based)
These blender pens are used for water-based media such as the water-based markers and watercolor pencils. They can also be used on chalk and on some colored pencils. They can be used to even out a color, to fade a color out, or to blend two different colors. Because it is water-based, make sure you are using it on a heavy paper or the paper may become too wet and rip.
Note: Make sure you clean your blender pen by drawing on a scrap piece of paper until it draws clean. If you put it away dirty, the remaining color could blend throughout the pen chamber and tint your now colored blender.
Quick Pick Recommendations for Water-Based Blender Pens:
Blending stump
A blending stump is made from very tightly wound up paper. It can help to push the color from a colored pencil (or chalk or pastels) down into the valleys on the paper just as with a blender pencil. It doesn't produce the same intensity of color as the blender pencil. I personally think these are better for working with pastels and charcoal than with pencil.
Quick Pick Recommendations for Blending Stumps:
Water Brush
A water brush has a barrel that you fill with water, and flexible brush tip. The brush is self-moistening and can then be used for watercolor pencils, watercolor paints, or water-based markers. The water moistens the coloring on the paper, enabling it to be pushed around, blended, faded, etc.
Quick Pick Recommendations for Water Brushes:
Other Tools
Pencil Sharpeners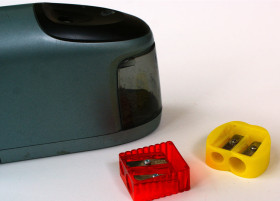 Not all pencil sharpeners are created equal. Cheaper ones often split the wood, some do not achieve a sharp point. Different kinds of pencils can also need a special sharpener. For example, wax-based pencils such as those by Prismacolor can gum up an electric sharpener. Some people choose to use a makeup pencil sharpener for these.
Technique is just as important. With a hand sharpener, make sure you turn the sharpener and not the pencil. The pencil is more apt to break if you are turning it.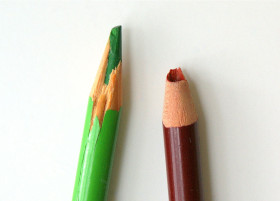 If you find the lead keeps breaking when you sharpen it, it might not be the sharpeners fault. The lead core could be broken, so when you sharpen, you are simply exposing closer to the break and the lead is loose enough to fall out. Pencils with softer cores tend to break more easily. You could try setting the pencil out in the warm sun for a bit to help melt the core to seal up the breaks.
An alternative to a blade sharpener is sandpaper. This can be a gentle way to sharpen exactly to your specifications with minimal waste. Another option is whittling with a knife.
Quick Pick Recommendations for Pencil Sharpeners:
Erasers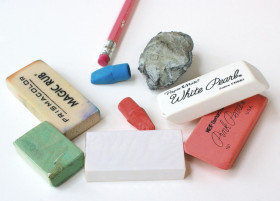 Not all erasers are created equal. Some roughen up the page too much, some make a real mess. Kneadable erasers are nice because you can mold them to the right shape for what you are erasing, but you can't form a small point and then press hard. Some erasers say they are only for graphite pencils, but work acceptably on colored pencils. The type of colored pencil you use makes a difference too, as does the intensity of what you are trying to remove. Your best bet is to try coloring and sample on a scrap piece of paper and try different erasers to see which works best for you.
Quick Pick Recommendations for Erasers:
Fixative
A fixative is a spray you use to coat your work. This can help protect your work when using media that could smudge. Another use is to give "tooth" back to your paper. For example, if you burnish in your colored pencils, the page becomes too smooth to apply any more color over it. But spray it with fixative and you can apply more layers.
Quick Pick Recommendations for Fixatives:
Clipboard
If you print out coloring pages from the web or tear out pages from a coloring book, you'll probably want to put the page on a clipboard when coloring. If you normally use standard size paper, any clipboard will suffice as long as it has a smooth surface. If you tear out pages from an oversized coloring books, however, you'll need a bigger clipboard.
Quick Pick Recommendations for Oversized Clipboards:
Paper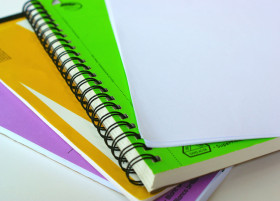 If you print coloring pages from the web, or make copies of pages from a coloring book, you'll want to make sure you use the right paper for the media you plan to use. Plain old copier paper can be fine for markers (except for the bleed-through). Newsprint is what is used for most children's coloring books. The tooth is good for coloring with crayons and pencils, but the paper yellows quickly, and there is lots of bleed-through with markers. In most cases you'll want a heavier paper, anywhere from 65 LB to 100 LB. You might be limited by what your printer can handle, so look up the printer specs or test it before buying in huge quantities. Here are some common weights you'll find:
20 LB: Copier paper. This is the thinnest.
24 LB: Multi-purpose paper, for printer, business letterheads
28-32 LB: Often used for brochures.
65 LB: Light-weight card stock, often used for postcard mailers and menus
80 LB: Heavy card stock, often used for business cards
90-100 LB: Heavier card stock, often used for flat greeting cards or invitations, also index cards, manilla folders
Another consideration is the texture of the paper. The more texture the paper has, the better. Glossy paper does not work well. However, special marker paper is thin and smooth, but designed so the color sits on top and does not bleed through. This makes it excellent for blending, although the dry-time is longer, so be careful not to smudge. Also, I have found that you get truer colors on marker paper. Sharpies appear much darker than their cap color on copier paper, but appear lighter and match the cap on marker paper. This is another area you might just want to experiment! Some people even print on colored paper (ivory or gray, for example) for a unique effect. Stop by a local print shop or an office supplies store with a print center (like Staples) and ask to see samples before you buy.
Media Recommendations
Pencils
If you want to buy a starter set of pencils and you are on a strict budget, there are a couple of children's brands that stand out. Crayola colored pencils are softer and apply smoother than most other cheap pencils. They are inexpensive, can be found almost anywhere, and come in many size sets, from 8 to 100. Another popular brand that I would recommend is Faber-Castell's Red Line.
Ones you'll probably want to avoid are RoseArt and Sargent Art, as these have hard leads and less pigment. You may also have problems with the wood splintering when sharpening.
For all of these inexpensive brands, the colors are likely to fade in sunlight if you display your work. But if you are new to coloring and want to practice your new craft, the recommended brands are a great starting point.
If you'd like to spend a little more and get a little higher quality starter set (known as "student grade"), Prismacolor Scholar is an excellent choice.* Two others to note are Faber-Castell Art Grip and Sanford Col-Erase. Note that these student sets are designed for beginning art students (as opposed to just for kids coloring), but are not designed for archival works (that is, they will likely fade in sunlight if you display your work).
* I have seen multiple negative reviews of the Prismacolor Scholar pencils due to breakage. The softer "leads" can be prone to breakage if dropped or roughly handled, and since the Prismacolor brand doesn't glue the core to the wood, the cores can slide out. The pencil sharpener used can also affect the breakage (see above).
If you want to spend more and get artist-grade colored pencils, then
Markers
Others
Koh-I-Noor "Mondeluz watercolor pencils – good review, good entry-level ?
Derwent Oil Pastel Pencils?
Where to Buy Supplies
Art supplies can be found in lots of places. If you are looking for beginner pencils, markers, or gel-pens, you can find them at craft stores, big box stores, pharmacy chains, office supply stores, and discount stores. For the more advanced supplies, many are available at craft stores like Michael's or Hobby Lobby, or art supply stores like Dick Blick. Supplies may also be found online thru one of the places already mentioned, online superstores like Amazon, or specialty online art suppliers like Jerry's Artarama or Cheap Joe's Art Stuff. Watch for back-to-school sales, especially for the lower-end supplies. And take advantage of coupons (check the store's web site) to help easy the pain of buying a high-end set of markers or pencils.
 So what's the best media?
It depends! Some people like one medium over the other and use that one exclusively. Others pick the media based on the coloring page. Do you think the design needs bold, vibrant, solid colors, or do you think it would look best a bit more muted, with lots of blending and shading?
And don't think you need to be restricted to one medium for your coloring page! You can mix it up! Just be aware that some of the wax-based pencils will often resist ink applied on top of it, so you'll usually want to use the marker first, then pencil on top for shading, or for more subtle colors such as for a background.
And remember that gel pens work great on top of dark backgrounds, such as those done with markers, to add highlights or decorative elements (like polka-dots or swirls) to give added punches of color or design. Or add sparkle to just about anything with a clear glitter gel pen.
Since chalk and oil pastels aren't good for intricate designs, try them for a background for a design colored with pencil or marker. You can get nice softly blended background effects. Watercolor paints also make great backgrounds.
To sum it all up…
There are no rights and wrongs with coloring! Use what you like and what you can afford. You don't need the deluxe top-of-the-line sets of everything to make a beautiful creation! Once you've tried different media, see what you are most comfortable with, and then slowly start building your collection. But, if you can afford it and think you'll be sticking with the hobby, splurge on the higher end products because they will perform better and you will be happier with the results. The most important thing is to have fun and not try to impress others or worry about what others think. Coloring should be relaxing and fun!
Leave a comment and let me know if you have other favorites I should check out!
In Part 2, I'll have a starter list of what you can color with your new supplies.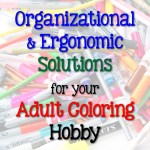 Once you've begun to accumulate your supplies, you'll need a place to store them. Check out my article Organizational and Ergonomic Solutions for Your Adult Coloring Hobby to help get your supplies organized and set you up with a comfortable coloring space!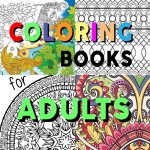 While you are here, you may want to check out the first article I wrote about coloring back in April: It's Okay for You to Color Too. I talk a bit about media (not nearly as much as this one, though) and some coloring books to get you started.
If you'd like to try some of my free coloring pages, here's the list.
And I now have some of my own creations for sale on Etsy! Check out my shop!
Also, check out my Coloring for Grown Ups board on Pinterest for more coloring pages I've collected… and follow me while you are there!
Follow Cynthia Caldwell @ Yet Another Mom Blog's board Coloring for Grown Ups on Pinterest.