Simple Symmetry, Volume 1 Mandalas & More
Symmetry is all around us. You find it in your home, in nature, in science, in life. It can have a very calming effect on us, easing our minds, telling us that everything is in its place; everything is where it should be.
Coloring symmetrical patterns, especially the circular designs of mandalas, can help you focus and release stress. As you color, you tune out the chaos of life and find relaxation and peace in the simple act of putting color to paper.
Mandalas & More is the first adult coloring book in the series Simple Symmetry, containing 42 beautifully illustrated single-sided pages to color. There are 32 unique designs, plus 10 bonus pages with a selection of the designs on a black background for a completely different effect. The designs vary in difficulty, so there is something for all skill levels.
Look Inside

Electronic download available!
Can't wait for the book? Want to be able to print pages on your own paper choice? The full book is available as a PDF instant download on Etsy!
Also, check out the sampler packs, with a smaller selection of the designs from the book!
Find Inspiration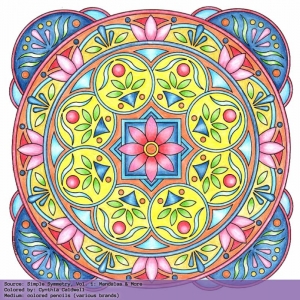 Check out some of the beautiful colored creations in the gallery!
Coloring Extras
While these pages are single-sided, they can still bleed through if you use a wet marker. At the back of the book, you'll find a few extra pages which you can cut or tear out to use between pages as you color.
Not sure how that coloring is going to look or if that color combination is going to work? Use these pages at the back for testing your colors as well.
Don't really like coloring in a book? Cut the pages out using a craft or utility knife. The margins are plenty wide so you won't have to worry about losing any of the design!
This books is 8.5"x11", and all of the designs are sized to fit in an 8"x10" area ­— perfect for framing!
Like the black background pages but don't think colored pencils or markers will show up enough? Try gel pens! They come in vibrant colors and sit on top of the paper instead of bleeding into it. They even come in glitter colors to really add some sparkle!
You can also get really vivid colors with highlighters! In addition to the classic neon yellow, you can get highlighters in neon shades of pink, orange, green, blue, and purple.