Coloring Page for Grown Ups: Garden Scene
Free coloring page PDF download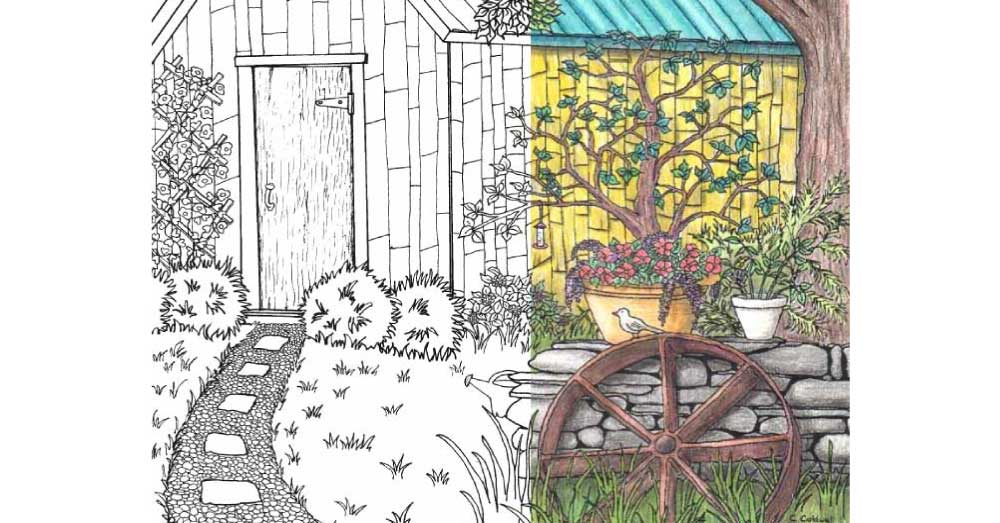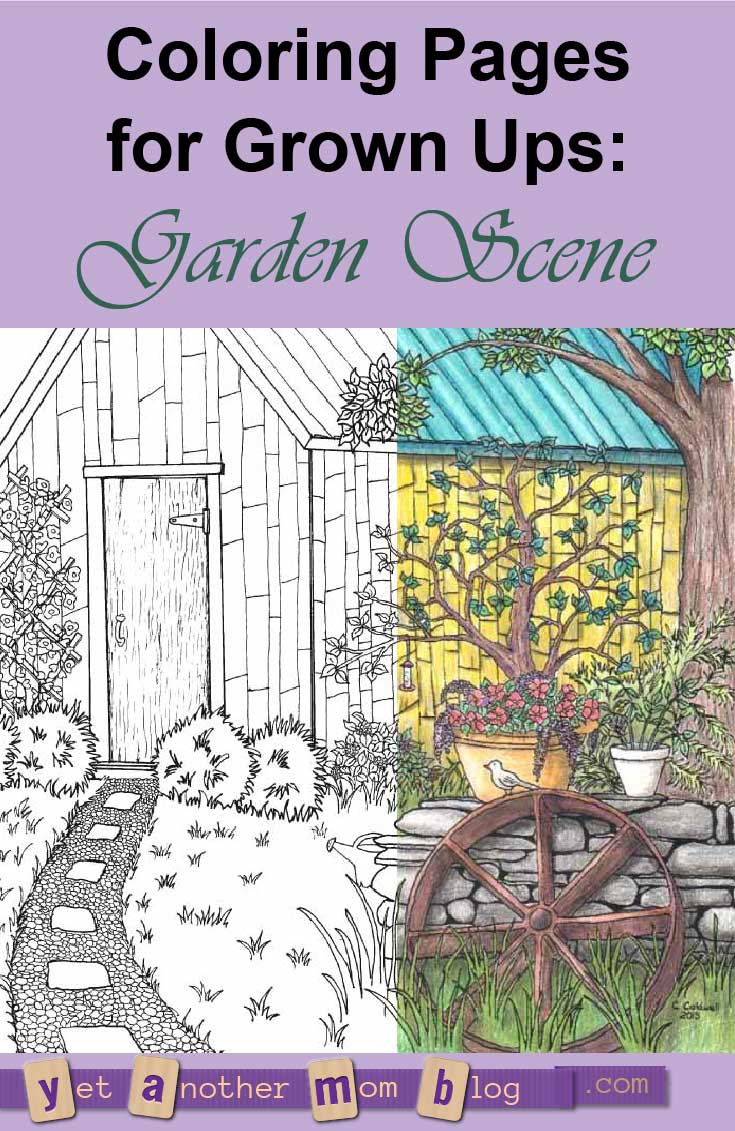 I know what you are saying… no, not another coloring page for adults! Why doesn't she post anything else? Well, there are a few reasons I've been doing these coloring pages lately. First, they don't require fancy photography. If I do a craft or DIY or recipe, I need pretty photos. And I haven't had time in decent light to do these. Second, I'm jumping on the coloring for adults bandwagon while it's in the news. Gotta strike while the iron's hot to attract followers! And lastly, I am having FUN doing these. It is relaxing. I can even do it while watching TV in bed at any time. I don't have to worry about the time of day, the weather, or the supplies needed. Just pen and paper and my imagination!
Today I have a garden theme. I did a little online searching for images to inspire me. This is the one I found to base my drawing on. It looked so peaceful. I wish this was my back yard. Of course I needed to test it by coloring it myself before publishing it for you folks. I used colored pencils (all different brands).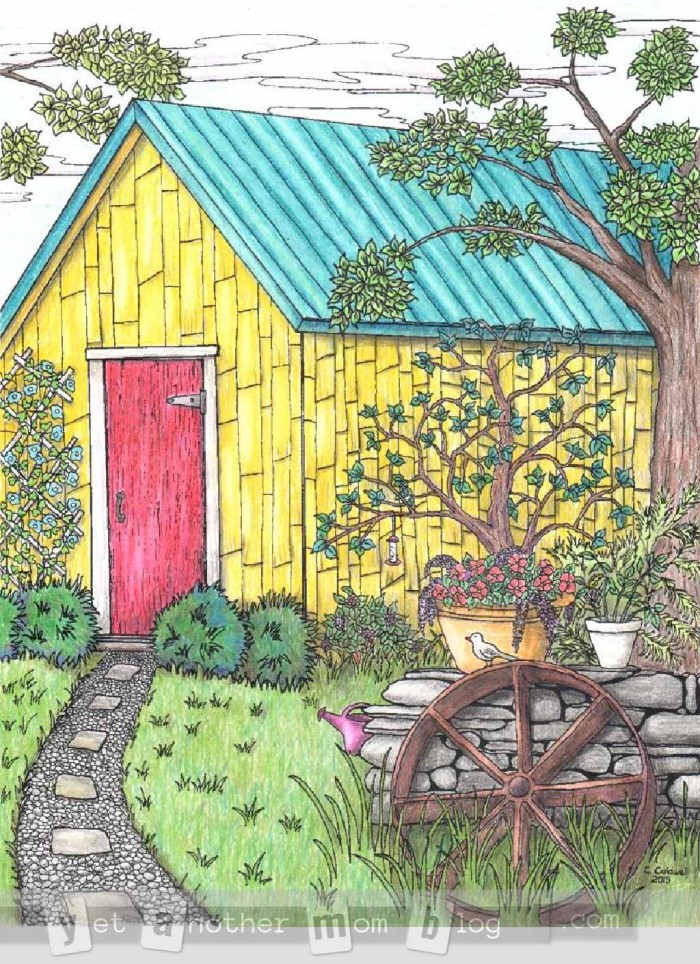 I need to expand my colored pencils collection (even though I have a shoe box sized plastic bin full to the brim of them). I do not have a good rust color, which would have come in handy for the wagon wheel. I also need a dark red or maroon. And I always need more greens to pick from, especially a dark green. I had to do lots of layering to get the darker colors.
I spent a long time trying to decide the colors for the shed, and left that for last. If I'd had a better red, I think I might have gone with that for the siding. But since I didn't, I just thought the yellow was so cheerful. The roof in the photo I found was a steel roof, so I went with that in my drawing, so really any color could be used, but you usually see them in red/brick, green, or brown. I cheated a little and went with the green blue.
Some of you coloring newbies out there might be wondering what works best for coloring. Really, you can use anything! Crayons, cheap or expensive colored pencils, washable markers, Sharpies, professional pens, even watercolors or acrylics if you print the image on suitable paper. I can tell you, from my perspective, my poor, old hands don't like colored pencils as much, because it seems I have to press too hard to get a good lay of color and then my hand cramps up. But I like the control I get with them. I can go very lightly or very heavy for different effects. It is much easier for shading and blending colors. And best of all, you can correct mistakes with an eraser!
In a previous post (It's Okay for You to Color Too) I included a list of some coloring supplies and links to find them on Amazon, and also a list of coloring books to get you started if you've caught the coloring bug! Check it out!
As always, you are free to download for personal use only. No uploading the PDF or another format for download from your website or social media account! If you display a colored or lo-res non-colored version on your website (or social media account), please include the entire image, including the copyright and path to the original file, and include credit to me and this web site URL in the picture description and the blog text. And no selling, colored or not! If you want any of my coloring pages for commercial use, please contact me.
Note that the watermark doesn't appear in the downloaded image.
Here's the garden scene coloring page PDF to download: download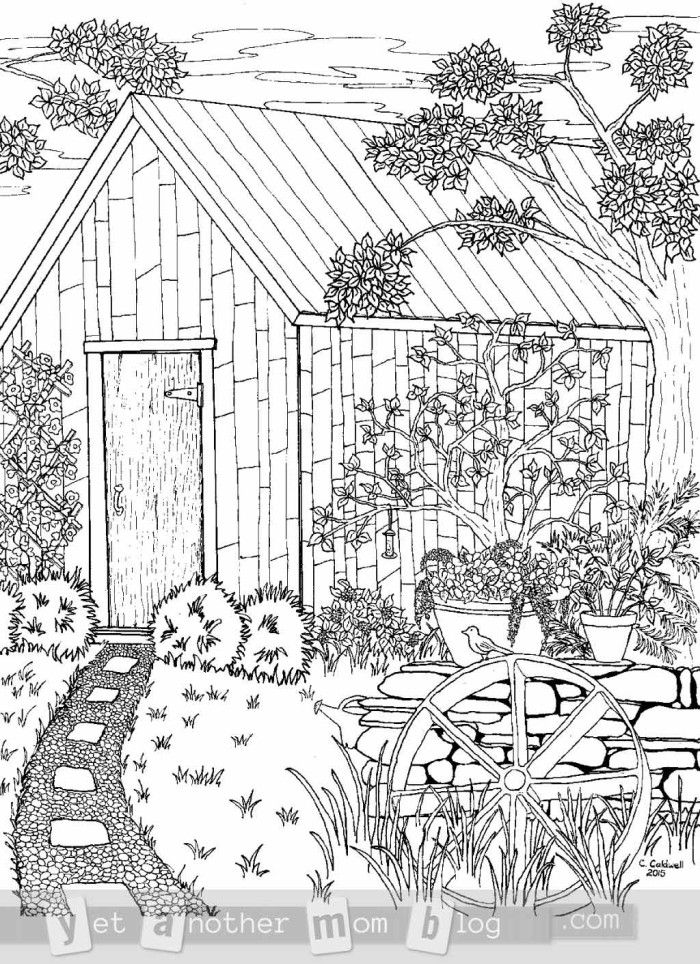 This image is sized to be 8 x 10 inches on 8.5 x 11 paper. When you go to print, tell it to use actual size and not scale to fit, unless you actually want a different size.
Check out the list of other coloring pages I've posted! Check back often, as I think I'm hooked on creating these. Or sign up for my mailing list and I'll deliver them right to you!
Also, check out my Coloring for Grown Ups board on Pinterest for more coloring pages I've collected from around the web… and follow me while you are there!
Follow Cynthia Caldwell @ Yet Another Mom Blog's board Coloring for Grown Ups on Pinterest.
I hope you enjoy it! If you color it, I'd love for you to share a picture here or on Facebook.